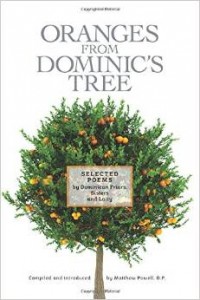 Oranges from Dominic's Tree is a selection of poems by Dominican friars, sisters and laity, compiled and introduced by Matthew Powell OP. As explained in the introduction, 'The title of this anthology, Oranges from Dominic's Tree, comes from the tradition that Saint Dominic planted an orange tree in the garden of the Priory of Santa Sabina in Rome. A series of orange trees have grown in that garden for almost nine hundred years, each taken from a shoot of the previous tree. Dominic's tree still produces oranges.'
The two following poems are by Paul Murray, who was born in Ireland, and joined the Irish Province in 1966. He has lived in Rome since 1994, where he teaches at the University of St Thomas Aquinas (Angelicum). He is also the author of The New Wine of Dominican Spirituality: A Drink Called Happiness.
THE FIRST WISDOM
Beautiful
are the texts of the Masters,
luminous and practical
their teaching.
But for me
more useful still,
my best-thumbed pages
of enlightenment
and the text and title
of my greatest learning,
are my own
faults and failings.
THRESHOLD
Not at the pointed
hour of ecstasy
or at the furthest edge
of being
but here, in the even
close-knit hours
among the weekday
goings-on
of wind and weather,
here in our hidden threshold
of perception,
here we must wait
until the doors of the present
swing open
on new hinges.