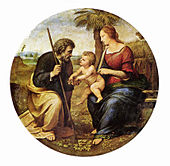 19. mars, Matt 1,16.18–21.24a
We can see in the life of St. Joseph that he has a discerning heart.  Very little has been said of him in Sacred Scriptures.  However, in each short account, we get a glimpse of who he is as a person. 
In today's gospel, we read that he planned to divorce Mary quietly for he found her to be with child, but not his.  He was going to do it quietly so as not to place her in a difficult situation.  We can perceive from here that he is a person who discerns the consequences of his decisions.  He was an upright man and he does the right thing.  However, the Lord spoke to him through an angel that he should not be afraid to take Mary as his wife for she has conceived by the hand of God.
Having a discerning heart he knew how to listen to God.  I'm reminded of a pupil in our school in the Philippines.  He was the most unruly and bully in the class.  He was able to irritate anyone without making an effort of it. Some of his teachers, even his adviser, were on the point of giving up on him. However, in our conversation as his teachers we were led to discern what the root cause of his behavior was.  We had a heart to heart talk with him and held dialogues with the family. This process led us to draw out from him his innate goodness.  With each daily encounter, his eyes and ours eyes were opened to see the goodness in his heart.  He even made it to the top ten of his class.
In the events of our daily life it is good to have a discerning heart like Saint Joseph so as to see how God moves in our life.  We will see how God leads us to seek truth, make peace and reverence life.
Sr. Jenny OP, dominikanerinnene i Bodø